I have to start by saying: I love Pinterest.  I wouldn't quite call my self an addict, but I am a big fan.  Never in my teaching career have I had more access to more ideas as quickly and easily as I do with Pinterest.  My little teacher heart goes pitter patter every time I find a new math game to try.
The problem?  In the words of the great Willy Wonka, "So much time, so little to do.  Strike that.  Reverse it. "   The truth is, no matter how great the ideas are and how desperately you want to try them, there is no way to do even a quarter of the awesome activities you find.
I'm sure I am not the only one who has started putting together awesome seasonal Pinterest activities only to find that I never managed to finish them before the season was over.  Oops.
Here's an awesome letter sorting activity I came across from TheClassroomCreative.com: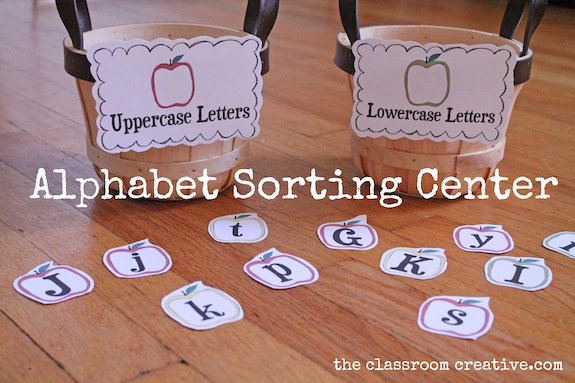 I just love this one! This game looks like a ton of fun, but only if I can manage to get it all printed and cut out in time (some how this rarely happens  :/ ).
So, a huge part of the Stealthy teaching philosophy  is making life (and teaching) easier on YOU, the teacher/parent.  It means finding simple and practical ways to do more of the wonderful and oh so tempting things that cover Pinterest.
The answer my friends; Table Top Games!   These are so fast and simple, you're going to kick yourself for not doing this years ago.  Here's how it works.
Gather your supplies. 
You will need a large roll of craft paper, some markers, and possibly some little doo-dads for the kiddos to move around.
Cover your table
 I use a small, kid sized table so I can cover the entire surface.  If you are using a human sized table, put out a big strip of paper and cover as much as you'd like. (Don't cheat here and use copy paper!  We're making interactive games, not worksheets, and yes, your kids will use them differently!!)
Create your activity 
Grab your markers and quickly sketch out your own version of whatever awesome Pinterest game you want to make.  Don't hurt yourself with this part, it's disposable and the kids don't really care if it's pretty.  Try to do it in less than 5 minutes.
Add some accessories for the kids
Now this part all depends on what type of game you are making.  You might just need something for counting (pom-poms, buttons, rocks) ABC letters of some sort (magnets, wooden pieces, game cards) or even just something to write with (markers, crayons, dotters, stampers).
Sit back and watch the fun!
That's it!  It might sound slightly complicated, but I promise, it's not!  And once you get the hang of it, you will be able to turn all sorts of things into Table Top Games.
I suppose if you wanted this to be a little more thematic, or closer to the original pin then you could have drawn basket or apple shapes in stead of circles, but you get the idea!
Don't be afraid to get creative, and remember, little kids are really easy to keep happy (for the most part).  Doing something as simple as switching up the game pieces from buttons to sea shells can turn the same old game into something totally new!
I will have a whole series of Table Top Games so you will have plenty of ideas.  I will even link to my favorite Pinterest games, and show you how I convert them!
Happy Learning!
I have included affiliate links purely to share with you the materials I have used.  It is in no way necessary (or very stealthy) for you to use exactly the same materials I do.  Do yourself a favor and use what you have on hand!